Home / Sandboarding in Merzouga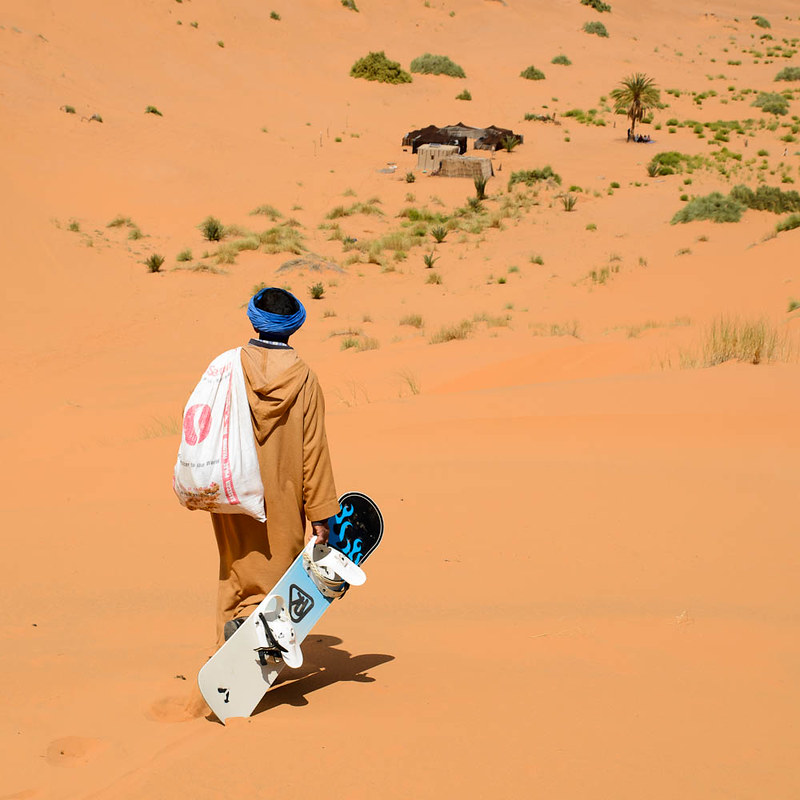 Dune surfing, also known as sandboarding, is a longtime popular pastime and the top sport among Moroccan nomads and young people in the Merzouga desert.
The older people will remember that when they were younger, they practiced sandboarding in Merzouga using a variety of handmade materials.
Sandboarding in Morocco is a part of our vacation across the desert there. The Great Merzouga desert dunes provide a wonderful chance to combine exploration and adventure. Although camel rides are still the desert's most well-known draw, it has lately become a popular venue for a variety of athletic events that invite you to participate in your passions and experiences. Despite the common assumption that skating can only be done on ice and snow, it is possible to skate on dunes as well. Sandboarding, also known as sand surfing, has developed into a fantastic activity for both beginners and seasoned boarders.
Sandboarding is a popular activity among tourists in Merzouga in the dunes of Erg Chebbi in Morocco. This pastime attracts people from all over the globe who are anxious to visit the desert. It is also not a dangerous sport since there is no potential of being wounded.
However, there are certain specialized conditions and occasions when sandboarding is best practiced. For instance, sandboarding is better after a wet day since the cemented sand will allow for a smoother fall down. Additionally, it is better to do it early in the morning or late at night since the sand may become extremely hot at times, particularly in the summer.
There are various desert locations in Morocco, but only one is particularly notable for sandboarding: Merzouga, a little community in the southeast of the country that attracts visitors because of its closeness to Erg Chebbi. The Erg Chebbi has been called "a wonderland of sand," and it has been called "a desert theme park."